Asar 15, (June 30) is a significant day for the people coming together to honour and appreciate the hard work of farmers and the importance of agriculture in Nepal. Dhan Diwas or 'Paddy Day' on Asar 15 is a special occasion that highlights the deep-rooted connection between farmers and the land, and vital food security. The saying "Growing tonnes by sowing grams" suggests the idea of maximising agricultural productivity with efficient farming techniques and methods. It implies that through better cultivation practices, farmers can achieve higher yields even with less input if it is done in the right time. It's interesting to note that even non-farmers participate in the celebration by relishing the traditional dish of Dahi Chiura, a of combination of beaten rice and yogurt. This demonstrates the inclusive nature of the day, where people from different backgrounds come together to appreciate and support the agricultural community. It's a way to symbolically connect with the farmers who are currently busy planting paddy in the fields.
Overall, celebrations like Dhan Diwas provide an opportunity to acknowledge the significance of agriculture and the hard work of farmers in sustaining our communities, and the agro-based economy. The tradition of planting paddy through the practice of Bethi, which involved playing instruments, dancing, and playing with mud, used to be popular among farmers with large paddy fields. However, over time, this practice has gradually vanished. To promote paddy production and its commercialisation and modernisation, the government officially declared Asar 15 as National Paddy Day on December 14, 2004. The intention was to increase paddy production and promote the adoption of modern techniques in farming.
However, as the nation is celebrating the 20th National Paddy Day with the slogan 'Climate resilient farmers' friendly technology for increasing rice production,' the target of increasing production is far from achieved. The objective of the slogan is to encourage research and development of climate-adapted techniques and available technologies that can help mitigate the negative impact of climate change on rice cultivation. The aim is to make farmers aware of these techniques and encourage them to apply them. By promoting climate-resilient and farmer-friendly technologies, the government hopes to improve rice production in the face of climate change challenges.
Rice and the economy
Rice holds a significant importance in the economy of Nepal. As the staple food crop, it is crucial for ensuring food security and plays a vital role in the country's economic, social, cultural, and religious aspects. Rice is not just a crop but a way of life for most Nepalis. It is consumed by over half of the global population and cultivated in approximately 114 countries, with Asian countries accounting for around 90 per cent of the total production and consumption. While China is the largest producer of rice in the world, followed by India, Bangladesh, Indonesia, Vietnam, and Thailand, Nepal ranks 17th in terms of rice production. However, in terms of rice consumption, Nepal ranks 13th globally. Rice is not only a key source of food but also a major source of employment in the agricultural sector.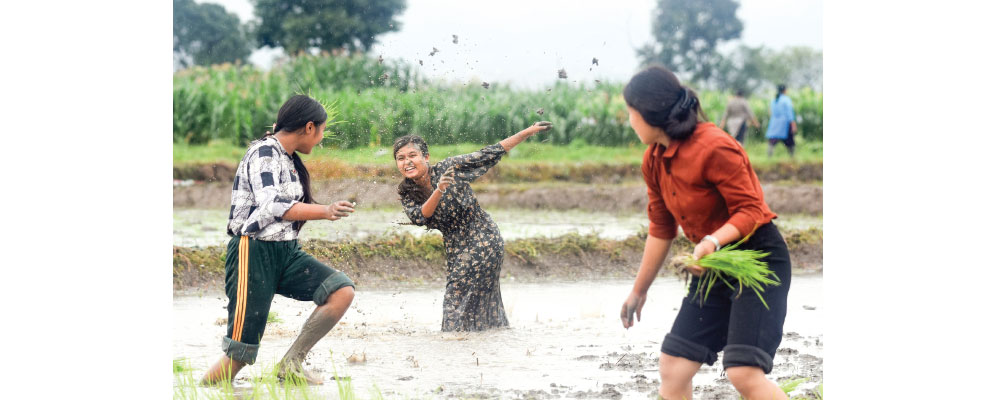 Rice production plays a significant role in Nepal's economic growth. Among the major food crops in the country, rice ranks first in terms of area, followed by maize. These crops contribute significantly to food and nutrition security in Nepal. Agriculture contributes around 24 per cent to Nepal's gross domestic product (GDP), and approximately 60 per cent of the population depends on it. Rice alone contributes about 13 per cent to the agricultural GDP and 3 per cent to the overall GDP. Additionally, rice accounts for approximately 52 per cent of the total cereal consumption in Nepal. Rice is essential for the viability of the national economy. The annual value of rice and its by-products in Nepal is around Rs. 200 billion. Despite the country's abundant potential for grain cultivation, it is not self-sufficient in food, leading to significant expenditures on cereal imports to meet national demand each year.
According to experts, various factors have affected rice production in Nepal, including the migration of young manpower, limited land ownership by a few individuals, land fragmentation, reliance on rain-fed farming, lack of irrigation systems, and limited access to advanced varieties of seeds and fertilisers. The development of the agricultural sector is crucial for increasing income, reducing poverty, and attaining food self-sufficiency. However, the performance of the agriculture sector has been insufficient to meet the growing food demand. To address this, the government has planned to increase rice production through commercialisation and modernisation. However, effective implementation of these plans is yet to be achieved.
Production scenario
Rice cultivation in Nepal spans a wide range of elevations, from 60 meters above sea level in Terai to 3,050 meters in Chumchaur of Jumla. Except for the districts of Manang and Mustang, which are located beyond the Himalayas, paddy is planted in all districts of Nepal. The country has a total cultivable land area of 3.55 million hectares. Approximately 50 per cent of the arable land in Nepal is used for rice cultivation. According to the Ministry of Agriculture and Livestock Development, rice is grown on 1.473 million hectares of land, with average productivity of 3.8 tonnes per hectare. However, rice cultivation and production heavily depend on rainfall due to the lack of irrigation facilities on most of the farms. Unusual rainfall patterns can lead to fluctuations in productivity. Last year, productivity dropped to 3.5 tonnes per hectare, compared to 3.8 tonnes per hectare in the previous year (2020/21). The total paddy production was approximately 5.486 million tonnes last year, whereas a record amount of 5.621 million tonnes was produced in the fiscal year 2020/21. However, paddy production was limited to 5.13 million tonnes in 2021/22.
Fluctuations in rice production are common due to changes in rainfall patterns. However, the introduction of new cultivation techniques and the use of improved and hybrid seeds have contributed to increased rice production, according to Dr. Ram Krishna Shrestha, Chief of the Centre for Crop Development and Agro Biodiversity Conservation.
Despite the increase in paddy productivity in recent years, the area of paddy cultivation has decreased by an average of 0.36 percent over the last two decades. There is a growing trend among farmers to use improved hybrid seeds, which has helped increase productivity. The Nepal Agricultural Research Centre (NARC) has been developing local hybrid seed varieties and recommending other hybrid seeds to adapt to climate change. The government has released and registered 151 varieties of rice seeds, but currently, only 121 varieties are in use. NARC has introduced two hybrid rice varieties, namely Hardinath Hybrid 1 and Hardinath Hybrid 3. The adoption of improved seed varieties in Nepal stands at around 25 percent. However, the potential yield of modern varieties can be realised only when recommended agricultural practices are followed. Improved quality seeds of preferred varieties play a crucial role in increasing paddy production and productivity, which is a major concern in the rice sub-sector, according to Dr. Shrestha. In Nepal, rice cultivation varies depending on the season, including Barkhe Dhan (main summer paddy), Chaite rice, Bhadaiya rice, Ghaiya rice, and winter rice (Boro rice), as classified by NARC.
Strategic efforts are being made at all three levels of the government to reduce the significant gap between potential productivity and actual productivity in rice. These efforts include providing quality fertilisers, advanced seeds, reliable irrigation facilities, and appropriate technical services, as well as linking the rice sector with the industry to create job opportunities and achieve the national goal of self-sufficiency and prosperity, as stated by Dr. Hari Bahadur KC, Director General of the Department of Agriculture.
Increasing dependency
Nepal, which was once a rice exporter, now heavily relies on its imports to meet local demands. The country imports rice worth billions of rupees annually. The estimated annual demand for rice in Nepal is around 4 million tonnes, but domestic production only reaches 3.4 million tonnes, resulting in a deficit of approximately 600,000 tonnes. Several factors contribute to this situation, including a low growth rate in rice production compared to population growth, fragmented arable land, a shortage of labor force, inadequate irrigation and storage infrastructure, and limited market facilities, said K.C. The dependency on imported rice is driven by increased consumption of fine and Basnadar (essence-fix) rice varieties, along with a lack of diversification in food crops. Imported rice often outcompetes domestic rice in terms of quality and price.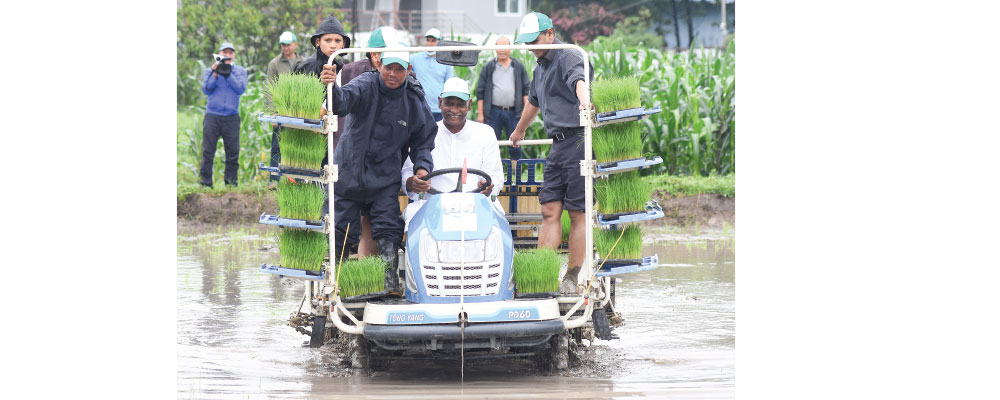 The urban areas, influenced by migration and increased remittance inflows, exhibit a dominant preference for fine and aromatic rice varieties. This trend has also started to extend to rural areas. As domestic production falls short, the import of such rice varieties has increased. Additionally, an increase in household income from non-farming c has community has sustained this demand. The changing rice-eating habits of consumers, favoring fine rice varieties over coarse ones, have contributed to import dependency. According to statistics from the Department of Customs, paddy and rice imports amounted to Rs. 33.63 billion in the first 11 months of the fiscal year 2022/23. Notably, rice imports have decreased compared to previous years, with Rs. 33.65 billion imported in 2019/20, Rs. 50.78 billion in 2020/21, and Rs. 47.57 billion in 2021/22.
Challenges
Nepal's agriculture sector faces multiple challenges, including a decrease in per capita arable land, limited access to and utilisation of new technologies, and inadequate supply chains for critical agro-inputs like fertilisers, irrigation, and machinery. As a result, hundreds of hectares of land remain fallow as many young people leave their villages in search of better employment opportunities abroad. Farmers consistently experience a shortage of chemical fertilisers during the planting season. Experts suggest that using fertilisers can increase production and productivity by approximately 25 per cent. To address this issue, the government has allocated a budget of Rs. 30 billion to ensure the smooth supply of chemical fertilisers in the upcoming fiscal year. Recently, the National Soil Science Research Centre released domain-specific fertiliser recommendations for rice, wheat, and maize. It took nearly half a century for the government to make these recommendations, which were previously provided in 1976.
Due to the absence of a land use policy, fertile land is being destroyed through the construction of concrete structures under the guise of development projects.Inadequate irrigation infrastructure is another factor affecting agricultural production. The investment in irrigation has been minimal, with only 32 per cent (500,000 hectares) of the total irrigable land and 14 per cent of the total arable land receiving year-round irrigation. Out of the country's 3.557 million hectares of arable land, only 2.536 million hectares are suitable for irrigation. As a result, the majority of farmers rely on monsoon rains for crop cultivation, making them vulnerable to droughts and other weather-related risks. Furthermore, lack of appropriate technologies tailored to specific geographical areas poses a challenge for farmers, particularly in cultivating crops like paddy. While modern technologies such as paddy transplanters are being utilised in some parts of the plains like Chitwan, these advancements are yet to reach small-scale farmers. Embracing modern technology can significantly increase production and reduce costs in the agricultural sector.
Way forward
Considering the importance of agriculture and food cereals in the economy, it is necessary to use technologies and improved varieties of seeds. This approach helps increase production and makes the country self-reliant in agriculture, especially in rice. The government should ensure easy access to fertilisers, and properly using them as per the needs of the crops and the soil. Traditional farming methods are costly and time-consuming, so promoting mechanisation in transplanting, harvesting, and post-harvest processes is essential. As climate change is having its impacts on agriculture, adopting climate-friendly practices and seed varieties is the call of the hour.
(The author is a TRN journalist who writes on economic issues.)