By Heather Chen, July 27: Countries across Asia are on high alert for monkeypox, screening travellers and scrambling teams of medics, as they report their first cases of the virus, now identified as a global health emergency by the World Health Organization (WHO).
Japanese authorities on Monday announced the first detected case of monkeypox in the country -- a Tokyo resident in his 30s who had returned from Europe in mid-July. The man had developed fatigue followed by a fever, rash and headache, Health Ministry officials told reporters.

He is currently receiving treatment in hospital and was "in a stable condition," officials added, declining to reveal further details about the patient, including his nationality.
Initial symptoms of monkeypox infection include fever, headache, swelling of the lymph nodes, back pain, muscle aches and lack of energy, according to WHO. The disease later progresses into a rash and lesions that can blister and scab all over the body -- usually lasting two to four weeks.
Antiviral treatments and vaccines already exist for monkeypox, including those used in the eradication of smallpox, according to WHO.
Japan's first identified case comes after its Foreign Ministry this week urged travellers to exercise caution regarding the disease. Officials said clinical studies into treatment and preventive measures have been launched, and vaccine shots administered to frontline medical workers in Tokyo.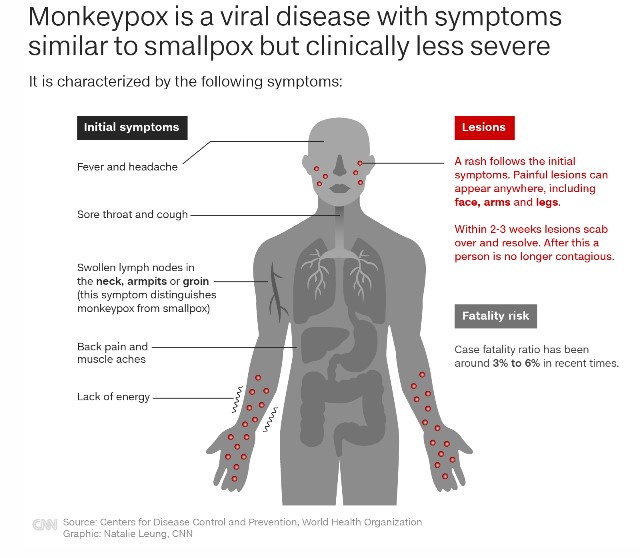 Caseloads in Asia remain low but experts say the region could see "a likely rise" in the coming weeks.

"Like Covid-19, border and travel restrictions didn't really stop the spread of monkeypox, only delaying it. The disease will (continue to) spread globally," said Khoo Yoong Khean, a scientific officer from the Duke-NUS Center for Outbreak Preparedness in Singapore.

"Cases in the US and Europe have been rising rapidly because of travel, trade and tourism. We will likely see more monkeypox cases being reported in Asia over the next few weeks to months."
According to Khoo, it's only a matter of time before more countries in Asia identify monkeypox cases.
"The real issue for countries in Asia now is whether the early detection and surveillance systems and processes are robust enough to handle the positive cases when they come through," he said.
But he cautioned against border restrictions.
"While (somewhat) useful as a stop-gap measure, these are not sustainable and something not many countries can endure again after their experiences with the Covid-19 pandemic," he said.
How did you feel after reading this news?