There was much hope and hype in regard to the potential growth and diversification of Nepal's export trade following its accession to the WTO in 2004. A diagnostic trade integration study was initiated as early as 2002 in the course of the accession process. Since then, three important trade integration strategic studies have been carried out. A comprehensive trade policy was brought out in 2009 and reviewed in a timely manner in 2015. The latest policy review is understood to be ongoing at present.
Looking at the picture of export performance since the WTO accession, there is hardly any room for satisfaction. The export-import ratio in FY 2004/05 was recorded at 1:2.55, whereas the same has exceeded 1:10 at present. The export of goods fell below the US$1 billion mark for several years, and only in recent years has it crossed that critical level. It is a scenario of stagnation in merchandise exports despite the combined domestic and international commitments to enhancing the export trade of LDCs like Nepal.
In the prolonged political transition of the nation, some premature deindustrialization and reindustrialization in certain sectors were discernible. However, not a single product based on indigenous resources has been firmly established on a sustainable basis in the cross-border and international markets. Out of total trade of Rs. 1,769 billion registered in FY 2022/23, exports comprised only Rs. 157 billion. Service exports, which used to generate surpluses in the past, have recently been at a loss. COVID-19, the Ukraine war, the global economic slowdown, and increased geopolitical tensions seen in recent years have taken a big toll on tourist arrivals and receipts.
Recently, the tourism sector has shown good signs of resurgence, though not reaching the level achieved in the past. One area that sprang up impressively was the service sector, which now contributes about 62 per cent to the GDP. Except for a few sectors like tourism, IT products, and BPO, most of the service products are locally consumed. The tourism sector is by far the largest contributor from the service industry side, but a comparison of the high potential Nepal holds as an exotic and unique destination and the actual performance it has been able to make reveals wider gaps. It is primarily due to connectivity and accessibility problems, as well as a shortfall in the planning and management of destination areas on the domestic front and weak marketing and promotion.
International Situation
The WTO, as an international rule-making and overall monitoring organisation, is meant for a free, fair, non-discriminatory, rule-based, and inclusive multilateral trading system. For countries in the global south, and more particularly for LDCs, there is little policy space and level-playing field in the intricate and complex game of international trade. They suffer from a huge development deficit that precludes them from any meaningful integration into the multilateral trading system.
They remain disadvantaged and marginalised to a large extent. The preamble to the Marrakech Agreement establishing the WTO states that developing countries would be provided with trade opportunities commensurate with the level of their economic development. All efforts since the Doha Development Round was initiated in 2001 have been progressively geared towards improving the lot of less developed areas among the member states, including the LDCs.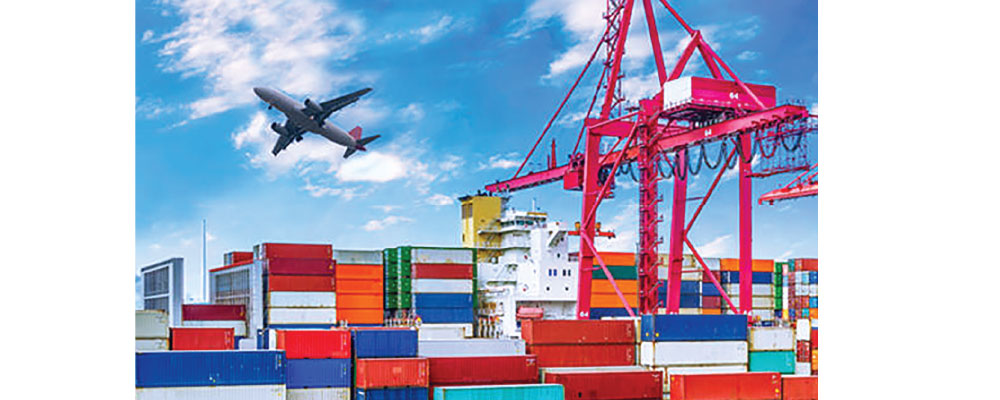 The decision to provide duty-free market access to 97 per cent of the H.S.-codified goods originating from the LDCs, the efforts in simplification and raising accountability and predictability of the 'Rules of Origin' in the interest of the LDCs, and the more recent decision to provide service waivers for the services and service providers from the LDCs in the markets of the developed and developing countries are good examples of creating market opportunities and stimulating trade-related development by the international community. While the Group of developing countries and LDCs were pursuing serious negotiations on furthering the development dimension of trade, serious fractures started to appear in the multilateral trading system in 2015. Trade disputes and rivalries between the US and China and mutual allegations on a number of issues have left serious challenges in the functioning of the WTO, which works on the norm of consensus decision-making.
Negotiations on making the special and differential treatment more 'precise, effective, and operational' in the spirit of the Doha Declaration are in disarray. The waves of nationalism and protectionism in trade are on the rise. Emerging trends of 'on-shoring', 'friend-shoring', 'near-shoring', and 'de-risking' of investments and business activities are creating further uncertainty in the volume, flow, and direction of international trade. The global rule of law and a predictable environment to do business at bilateral, regional, and international levels have become more challenging for those countries that have limited capacities and those who have been relegated to the role of 'rule takers' rather than 'rule makers' in the game.
Hardships and challenges
Any effort to achieve sustainable growth in export trade for Nepal should start with an objective realisation of the fact that our export products have been rendered uncompetitive or less competitive due to interlocking factors related to both the landlocked and least developed nature of our economic situation. Secondly, supply-side capacity constraints to tap into available market opportunities also matter. The comparative advantage of geographic location between the two largest and booming economies and the uniqueness of terrain and demography are issues that relate to strategic management for accruing benefits rather than tactical short-term gains. Unless we catch up with developmental trends and foster complementarity through a harmonised policy regime at bilateral and larger regional levels, the neighbouring markets and their increased high potential for access to products of national interest would prove elusive.
We produce goods that are similar to what our neighbours produce with economies of scale and at a far more competitive price than we can offer. The ubiquitous agriculture sector, for example, is highly subsidised and supported by publicly funded R&D activities in the huge economies of our neighbourhood.
Losing our competitive edge in offering our products in these markets, we have become a growing market for the variety of products they produce. Slow action or non-action in exploiting the unique agro-bioclimatic pockets of Nepal for producing unique foods of health value as well as herbal and medicinal products of low volume and high value has become more of a myth than reality. Can we structurally transform the agricultural sector to render it modern and commercial, as has been envisaged by the Agriculture Development Strategy (2015–35)? What concrete measures are needed? This is a soul-searching issue.
Relevant UN reports show that the economies of landlocked countries are 20 per cent more expensive than those of their coastal neighbours. On top of it, internal supply-side weaknesses in them exacerbate the situation. These include low-quality infrastructure, high transport and transit costs, a low level of logistics support for trade, limited availability of raw materials and intermediate goods for production, limited harmonisation of cross-border policies and infrastructure, and poor trade facilitation measures. Long-term vision and strategies and their systematic implementation are the means to overcome these structural weaknesses.
Nepal is lavishly gifted with genetic resources, traditional knowledge, and traditional cultural expressions, which are highly potential entities for trade to happen. Identifying, conserving, and preserving a resource, exploring its potential cultivation, devising effective packaging, implementing strategic marketing initiatives, and incorporating measures such as intellectual property rights (IPR) protection and geographical indication are essential steps. These actions create opportunities for producing distinctive products with a competitive edge, fostering sustainable market exploitation. Though a policy in this respect came out in 2017, relevant laws and strategic measures for realising goals to this end have not yet come out.
The base and basket of the export trade are limited; the volume, quality, and standard are constrained, and no single export item has consistently taken a significant top position in the export list so far. Nepal is not a commodity-dependent country for its exports, as commodities comprise less than 30 per cent of the country's exports. Major exports consist of low-value-added and low-tech manufactured products, which have a higher vulnerability to price and market fluctuations.
Looking at the trade integration strategies, relevant studies have been carried out in a timely manner, and sound reports with reviews have been published periodically. However, there is no clear answer to why 19 export products with high potential were enlisted in the Nepal Trade Integration Strategy, 2010, and what made the list downsize to 12 items in NTIS 2016 and again enlarge it to 32 items in the most recent NTIS 2023? The approach to NTIS has been hortatory, with a heavy accumulation of 'best endeavour clauses' in the name of strategy.
A real strategy in this regard calls for policy, legal, and institutional harmonisation and synchronisation of activities thereof. It must also be coupled with the joint commitments of all relevant players, including political leadership at all tiers of the federal system, for the implementation of desired goals and objectives. The listing of hydropower, green hydrogen, green metals, and enhanced promotion of tourism, IT, and BPO as items of high potential exports, for instance, looks promising but is beset with huge challenges of coordinated actions for the achievement of objectives and results.
The infrastructure necessary for conformity assessment, testing of standards, accreditation, and mutual recognition of standards is an essential prerequisite for enhanced and sustainable trade. The existing standard infrastructure is rather weak and incipient.
It has become imperative to look into the development of the marketplace and take measures to integrate our trade with the market's characteristics and demands. Business as usual is no longer helpful to ensure a larger chunk of market share. India has comprised up to 80 per cent of Nepal's exports and 69 per cent of total trade in recent years.
Developing complementarity through consultations and negotiations in the offer of products and services and harmonising policies and measures for ease of doing cross-border business are far more pragmatic under these circumstances. Once the concessions, facilities, and delayed implementation of the rule-based measures are progressively eliminated following Nepal's graduation from LDC status in 2026, things would solely depend upon our capacity for a negotiated settlement for existing and potential preferential market access. Nepal has been enjoying DFQF market access in general in the global market and 'Everything but Arms' under the EU GSP and Nepal Trade Preference Act, 2015 under the US GSP at present, besides bilateral preferential trade agreements with India.
These preferences are providing good leverage in terms of market access for national exports. If the negotiating capacity in all sectors of trade is not enhanced, maintained at an optimum level, and put into action immediately, we may lose out on some share of our export trade in the world market. The positive side is that due to its heavy dependence on India for trade, Nepal's potential loss, as shown by UNESCAP and WTO studies, would be less than 2.5 per cent of the existing value of trade when preferential market access ceases to exist after graduation. However, this does not provide any room for complacency.
Silver Lining
The World Bank disclosed a positive development in our export market in its 2021 Development Update. Looking at the latent potentials and the nature of existing demands in the neighbourhood, the nearby Asian markets, as well as the traditional western markets for Nepali products, the World Bank projects that Nepal has been bereft of "missing exports" to the tune of US$ 9.2 billion annually.
This figure comes close to the level of trade deficit being experienced in international trade at present. This is a call for deeper study into the projection so as to take up strategic measures to raise the volume, quality, efficiency, and effectiveness of the export trade.
Export-led growth is undoubtedly the main driver of socio-economic transformation, poverty reduction, shared prosperity, and sustainable development. These are also factors that directly contribute to abiding peace and security in society. Nepal's heavy dependence on foreign employment and remittances has its downside, with serious consequences for the social and economic life of the nation.
The nation calls for development that is investment-friendly, and that leads to increased and efficient production of goods and services for export into all major markets of the world. To this end, consolidating positions in the traditional markets and establishing links in the new ones through valued products and services is the prime requirement.
(Dhital is a former Permanent Representative of Nepal to the United Nations and WTO based in Geneva, Switzerland.)