Between June 15 and July 31, 2021, almost 700 families living in Melamchi Municipality, Helambu Municipality, Indrawati Rural Municipality, and Panchpokhari Thangpal Rural Municipality faced a devastating flood that shattered their lives. Homes were washed away, liveli hoods were destroyed, and hopes for a brighter future vanished with the rushing waters. Deep Bahadur Jyoti of Jyoti Bagar in Helambu Rural Municipality had hopeful aspirations of sending his children to Kathmandu for higher studies. However, the tragic Melamchi flood upended his dreams, leaving him uncertain about their future education amidst the aftermath of the disaster.
"I am feeling hopeless these days, as I can barely provide good food to my children due to a lack of work. The government provided me Rs. 50,000 as compensation, and I started a small shop in a dilapidated house on the roadside, but it has not been successful. I am planning to close down this shop as there is a risk of another flood during the rainy season. I have not received any other compensation apart from Rs. 50,000, as two years have passed," he said. The flood washed away land, houses, schools, and industries in Melamchi, Helambu, Panchpokhari Thangpal, and Indrawati. Ganesh Bagar in Sindhupalchok alone lost 35 houses, and Jyoti's house was among them. Some of the locals' houses were buried, and others were buried halfway. They are not in a position to reconstruct or reuse them, Jyoti said.
Jyoti has a family of five members and has nothing to do right now. He saw many government agencies visiting the site, but none of them have provided them any relief aid so far. But the recent visit of Prime Minister Pushpa Kamal Dahal of our area has raised some hope in the locals, including Jyoti, that they will get compensation soon. "As a father of three children, I have the responsibility to send them to school, but I have nothing to do right now, neither a job nor a business. So I am planning to go abroad to earn some money," Jyoti said.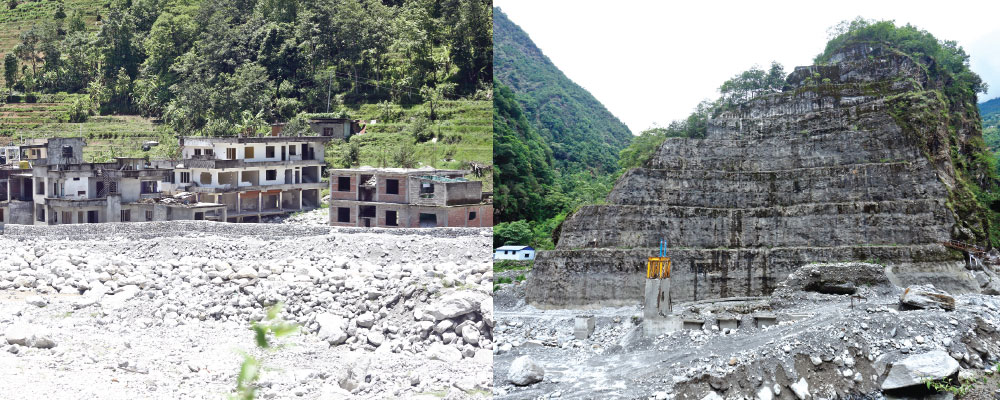 Another local, Leela Bahadur Jyoti, a resident of the same area, built a house on the land he bought for Rs. 1.7 million three years ago. Within a year of building the house, the flood swept it away. He said, "As soon as the house was built, my son got married. That house was destroyed by the flood. Then a temporary residence was arranged for one year. It's been two years, and nothing has been done for permanent residence." He complained that there was no arrangement for permanent residence from the local government, even after two years. He has a family of four with his wife, son, and daughter-in-law.
Kami Tamang, 35, a resident of the area, has a family of six, including his wife and four children. He says that his family has been living in a temporary shelter that was made immediately after the flood. As the rainy season has started again, there is no safe place to live in. He said, "There are children to take care of and the shelter is not safe. It is very hot in the summer and very cold in the winter. This shelter was meant only for temporary purpose. It is raining again, and there is fear of floods and landslides."
Chanaute Bazaar is one of the most popular markets in Sindhupalchok after Melamchi Bazaar. Hasta Pandit shares a harrowing account of the flood's impact on Helambu Rural Municipality-7, detailing the complete destruction of Chanaute's marketplaces, three sizeable trout farms, agricultural land, and various other structures in the area. The devastation left the community facing immense challenges in the aftermath of the disaster. There are empty houses in Chanaute, where the settlement has become deserted after the flood. Pandit said, "Out of about 50 houses, 25 were swept away in the flood. Nobody is living in these houses during the rainy season. We are preparing to stay here in the winter as well because there is no alternative."
Risk remains 
The risk of flooding remains the same for the locals of Jyoti Bagar, who are living in fear in the temporary shelters. If a similar flood comes again, they might not even have a temporary shelter to live in. They fear a shortage of food and shelter. The flood has caused immense damage. Houses and the trout fisheries are in ruins, leaving people in debt and despair. The affected communities are anxiously waiting for government support to help them rebuild their houses or relocate to a safer place. Prior to the flood, the local people used to farm in the land on the bank of the Melamchi River. That used to provide sufficient grains and vegetables for them throughout the year.
Earlier, Jyoti Bagar was also known as the second market. Local Lila Bahadur said, "The faced by the flood victims of this area has been raised by rights activists and the media as well. But nothing has happened to us so far. "We will be happy if the government makes an arrangement to build integrated settlements here," Lila said.
Hasta Pandit of Helambu Rural Municipality-7 recalled that three large trout fisheries, agricultural land, and all the markets in Chanaute have been buried in the flood debris. Last year, around Rs. 40 million was spent with the mobilisation of the consumer committee for river control and debris clearing. It is said that about Rs. 280 million has been invested by construction companies in Helambu and Melamchi. The committee is currently working on river control and channeling debris.
Locals and entrepreneurs assert that both past and present governments have been repeatedly notified through memoranda about the Melamchi River Corridor Integrated Project, asking to provide relief and compensation for the displaced families. Pandit emphasised the fertile land's potential for farming and urged proper management of the remaining land to restore its arability.
Lack of research
Geologist Basanta Raj Adhikari, who is also the Deputy Director at the Centre for Disaster Studies of Engineering Campus Pulchwok, said that a detailed study of the affected area has not been done. He said that debris still exists in Bhemathang, and if it rains like that in June 2021, there is a possibility of similar devastations again. "There is still a lot of debris heaped up in Bhemathang. However, it is not possible to say how much will be carried away."
According to ICIMOD, the devastating Melamchi disaster of June 15 and subsequent days was not caused by a single factor but rather a combination of human-induced and climatic elements along the Melamchi River. High precipitation, particularly in the north, triggered cascading hazards that resulted in significant loss of life and destruction of settlements, markets, roads, and bridges, impacting local livelihoods. These contributing elements include weather conditions, high-altitude glacial environment processes, activity at the Bremthang old landslide site, and the formation of a new landslide at Melamchigaun, river damming, outburst floods, and riverbank erosion with debris deposition. Early warning systems, facilitated through informal risk communication from upstream communities, helped mitigate losses in downstream areas. Establishing robust early warning systems involving both upstream and downstream communities, with support from local and national government entities, is crucial. The study primarily with remote sensing information, and further investigations, including aerial observation and detailed field assessments, especially in the upstream high-altitude regions, are vital for enhancing the region's resilience against future disasters.
Damage at local level
According to Amrit Kumar Dhital, Chief Administrative Officer of Melamchi Municipality, 273 houses and 1800 ropanis of individual land were washed away in the 2021 Melamchi flood. Another 1200 acres of public land, two motorable bridges, one suspension bridge, and one school were also washed away. Four other suspension bridges were also damaged. 
According to the assessment at that time, property worth Rs. 57 billion belonging to individuals and the public was damaged or swept away. The local government is taking initiatives for the relief and rehabilitation of the victims, and 273 people have been declared as reconstruction beneficiaries. Efforts are being made to rehabilitate the victims." He said that Rs. 500,000 will be provided for reconstruction and Rs. 800,000 for restoration based on the damage. He says that most of them have been provided with the second installment amount. 
Helambu Rural Municipality suffered the biggest human damage. The chairman of the rural municipality, Nima Galjen Hyolmo, said that 24 people lost their lives at that time, and two people are still missing. Some 2,100 ropanis of land, about 20 trout farms, and 380 houses were swept away. He expressed that there is no initiative on behalf of the federal government for relief and management. The government presented two budgets after the devastating flood, but none of the programmes and policies included the Melamchi incident. 
"The government included every disaster in one frame (a monsoon-related disaster), but the Melamchi disaster was different from any other disaster and should be addressed differently. We are asking the government in a memorandum that the loss of house and land be evaluated, and compensation provided as per the value of the property. Only Rs. 500,000 is not sufficient to buy land and build a house," Hyolmo said. Chairman of Indrawati Rural Municipality, Jhamka Nath Nepal, said that more arable land was swept away in the rural municipality. Altogether, 30 hectares of land in seven areas were swept away in that disaster. According to Nepal, the local government, with support from the federal government, is constructing an embankment on the bank of the Melamchi River for protection from further damage during the season.
Similarly, the Information Officer of Panchpokhari Thangpal Rural Municipality and Disaster Focal Person Narayan Chhetri said that the flood swept away 184 houses in the rural municipality. Out of them, 42 families are in the process of getting permanent settlements, 55 people are in the process of purchasing land, and the remaining are facing difficulties in getting land. In municipalities outside Melamchi, flood victims received an initial relief amount of Rs. 50,000, but opinions about this assistance are divided. Some consider it inadequate, seeing it as a reflection of the government's poor handling of the situation, leading to disappointment and frustration among community members. 
As they strive to rebuild their lives, they express a desire for more comprehensive and compassionate support from the government and relief organisations to address the magnitude of their losses and suffering.
(The author is a journalist at The Rising Nepal.)