By Sophie Long in Rolling Fork, Mississippi and Antoinette Radford in London, Mar. 26: At least 26 people have died in Mississippi and Alabama after a tornado tore through the southern US states.
Search and rescue efforts are continuing, and the Mississippi state government has declared a state of emergency.

In Rolling Fork, crushed cars, bricks and glass litter the streets - the town has been almost entirely wiped out.

One resident told the BBC he was lucky to survive after seeking shelter in his bathtub.

Approaching the neighbourhood in western Sharkey County, there is little indication of anything unusual. 

The lush farmland that surrounds it is completely untouched, the trees aren't even bent out of shape by the wind. Then suddenly you see the houses that were in the tornado's path.

They have been totally obliterated.

Homes where family and friends had gathered less than 24 hours before, ready for the weekend, have been reduced to rubble.

Timber frames have been snapped into pieces. There are upturned washing machines, but it is impossible to identify anything that might have been a kitchen.

Amongst the rubble, there are vehicles that have been tossed around. There is the occasional children's toy and other signs of the lives that were lived here just hours earlier.

The tornado hit in the middle of the night - people had been sleeping and had not heard the alerts. For many, the first indication that something terrible was happening was the noise.

Francisco McKnight told the BBC it was a miracle that he is alive. The only warning he had was the sound, he said - he had never heard anything like the noise of the wind on Friday night and never wants to again.

He took one look outside and then ran into his bathroom and got into the bathtub. He said that was what saved him.

The only part of his home that is still standing is parts of two of the bathroom walls.

The tornado lasted just five to 10 minutes he said, and he sat in the tub as the rest of his home was ripped away. For now, he staying in one of the shelters that have been set up in the area.

He does not know what he will do next, but he says somehow he will rebuild his life.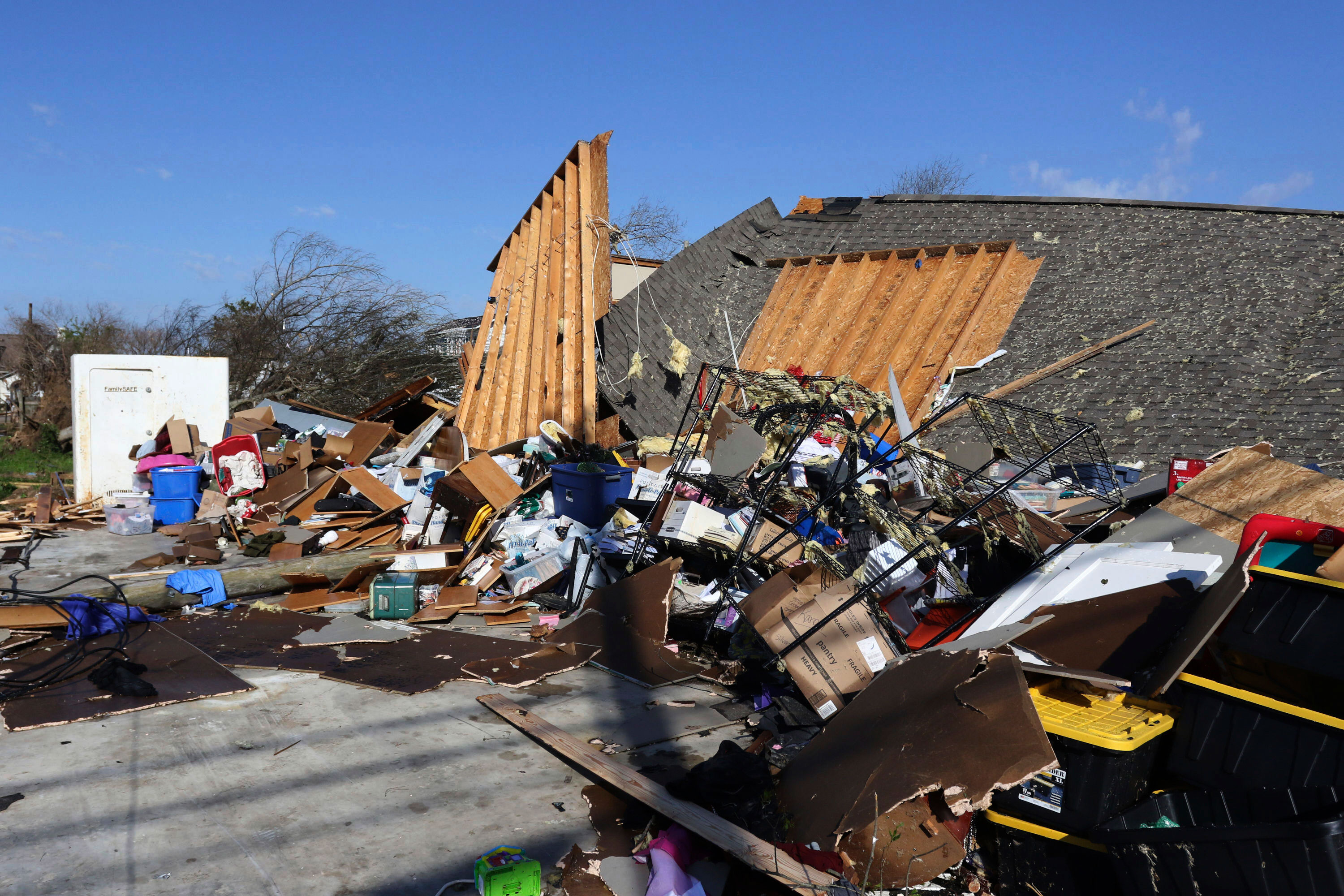 The remains of a recreational vehicle garage and the safe room is damaged in Amory, Mississippi, on March 25. (Jim Lytle/AP)
---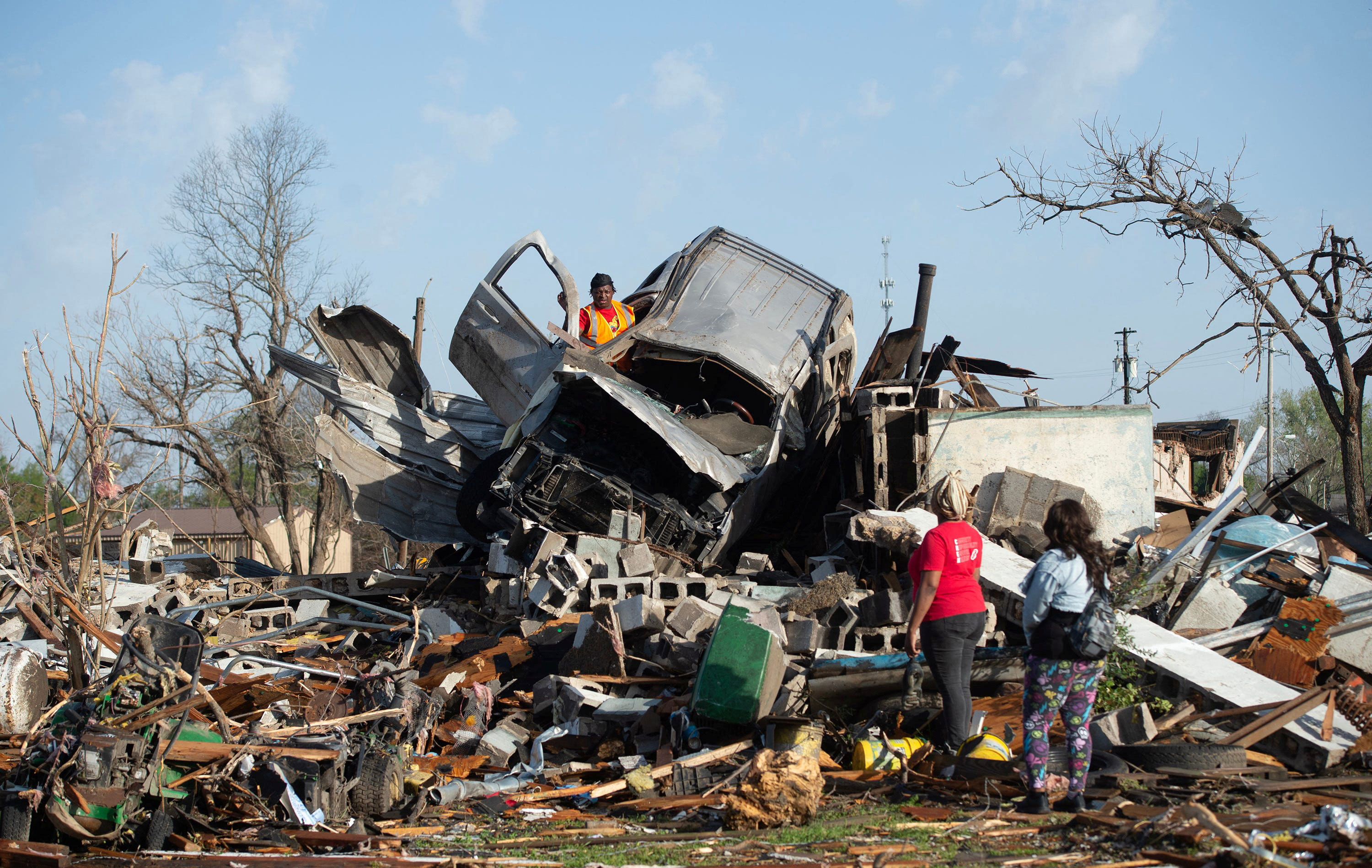 KeUntey Ousley tries to salvage what he can from his mother's boyfriend's vehicle in Rolling Fork on Saturday as his mother LaShata Ousley and his girlfriend Mikita Davis watch. (Barbara Gauntt/The Clarion-Ledger/USA Today/Reuters)
---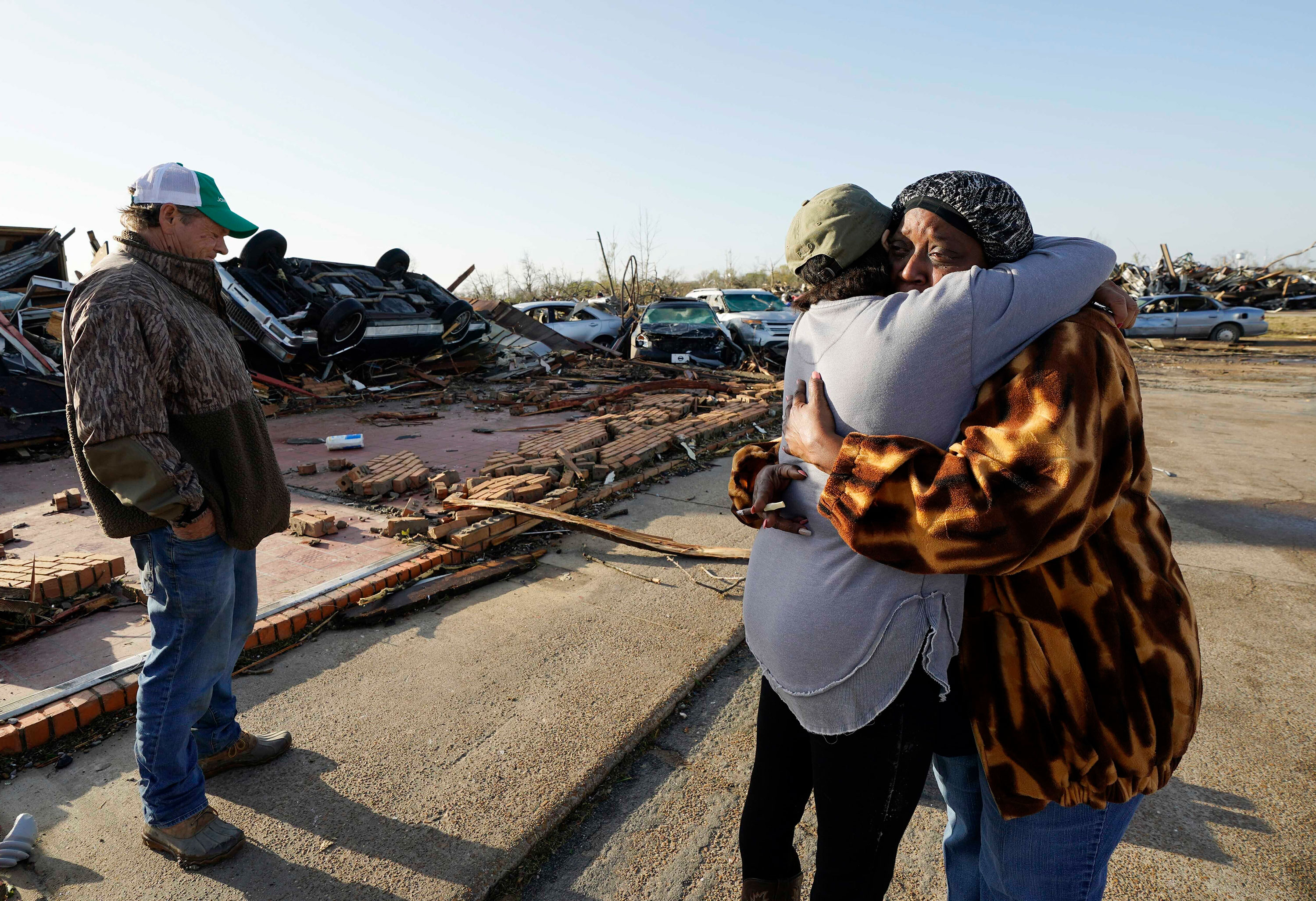 Tracy Hardin, centre, who with her husband Tim, left, owns Chuck's Dairy Bar, consoles a neighbour in Rolling Fork, Mississippi, on March 25. (Rogelio V. Solis/AP)
---
Charlie Weissinger tosses away the panelling from one of the desks in his father's demolished law office in Rolling Fork on Saturday. (Rogelio V. Solis/AP)
---
Debris is seen in Silver City, Mississippi, on Saturday. (Hannah Mattix/The Clarion-Ledger/USA Today/Imagn)
---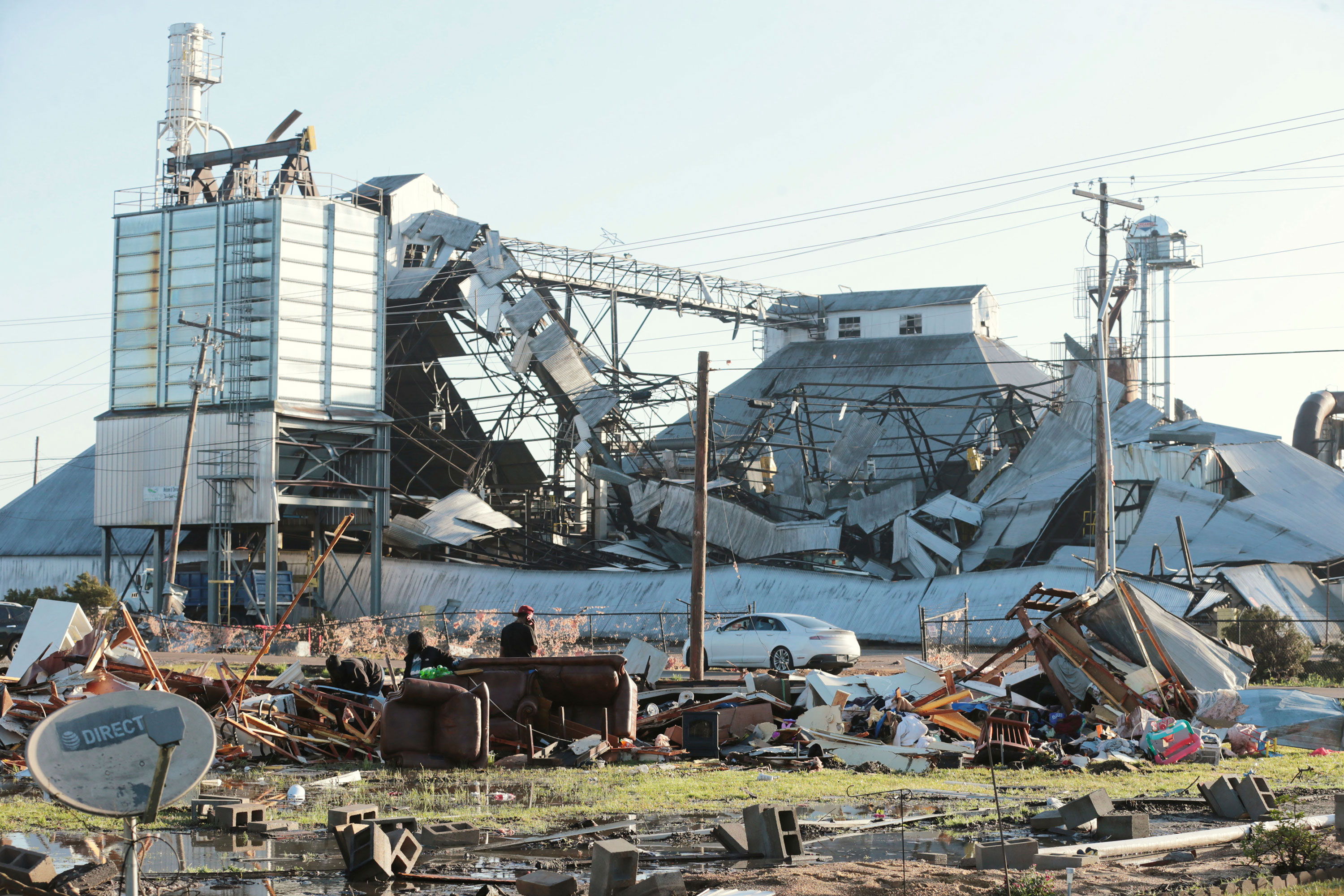 Enviva Pellets, a maker of sustainable wood pellets, sits damaged in Amory, Mississippi, on Saturday. (Thomas Wells/The Northeast Mississippi Daily Journal/AP)
---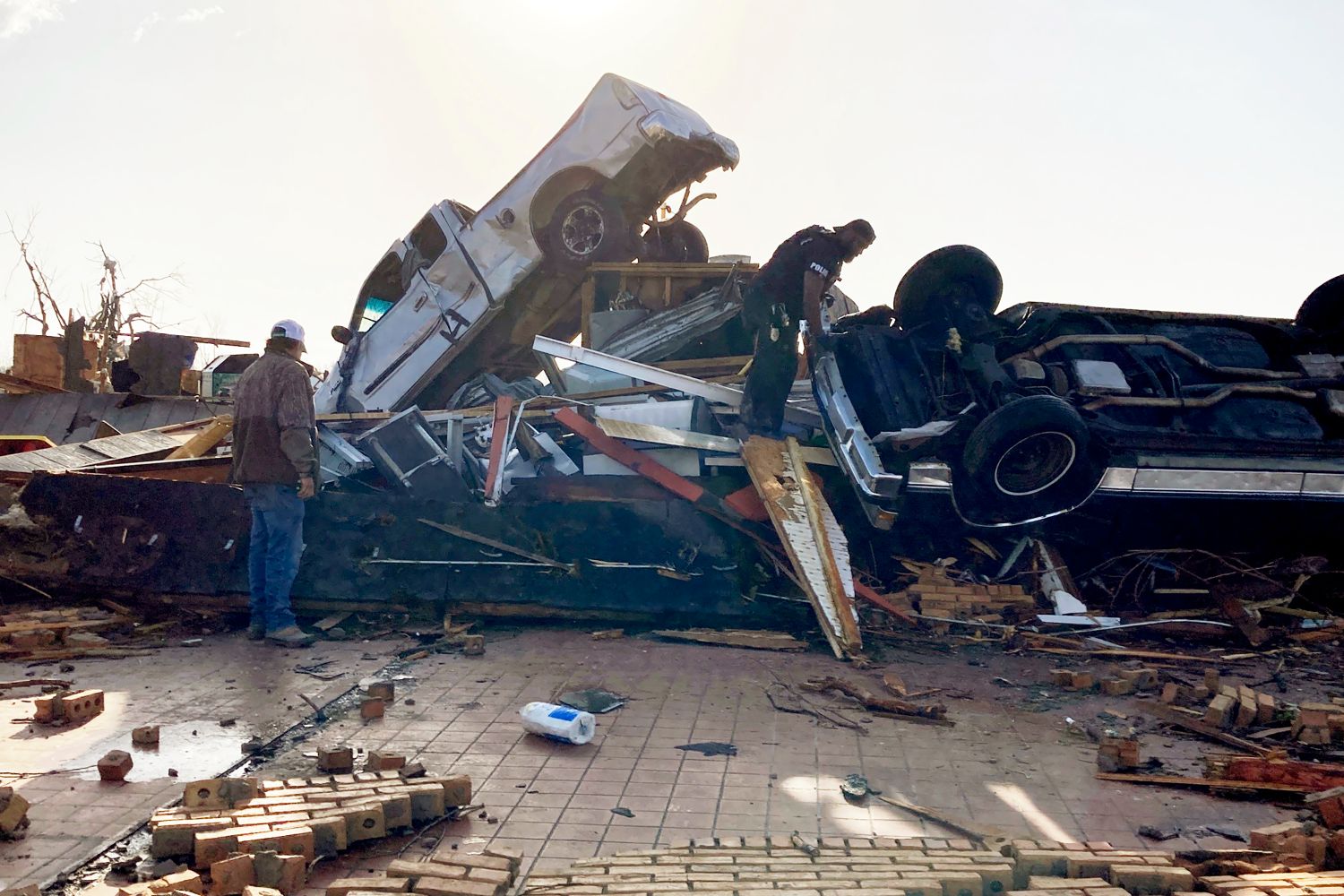 Law-enforcement officers climb through debris on a diner looking for survivors early Saturday, March 25, 2023, in Rolling Fork, Mississippi. Emergency officials in Mississippi say several people have been killed by tornadoes that tore through the state on Friday night, destroying buildings and knocking out power as severe weather produced hail the size of golf balls moved through several southern states. (Rogelio Solis/AP)
---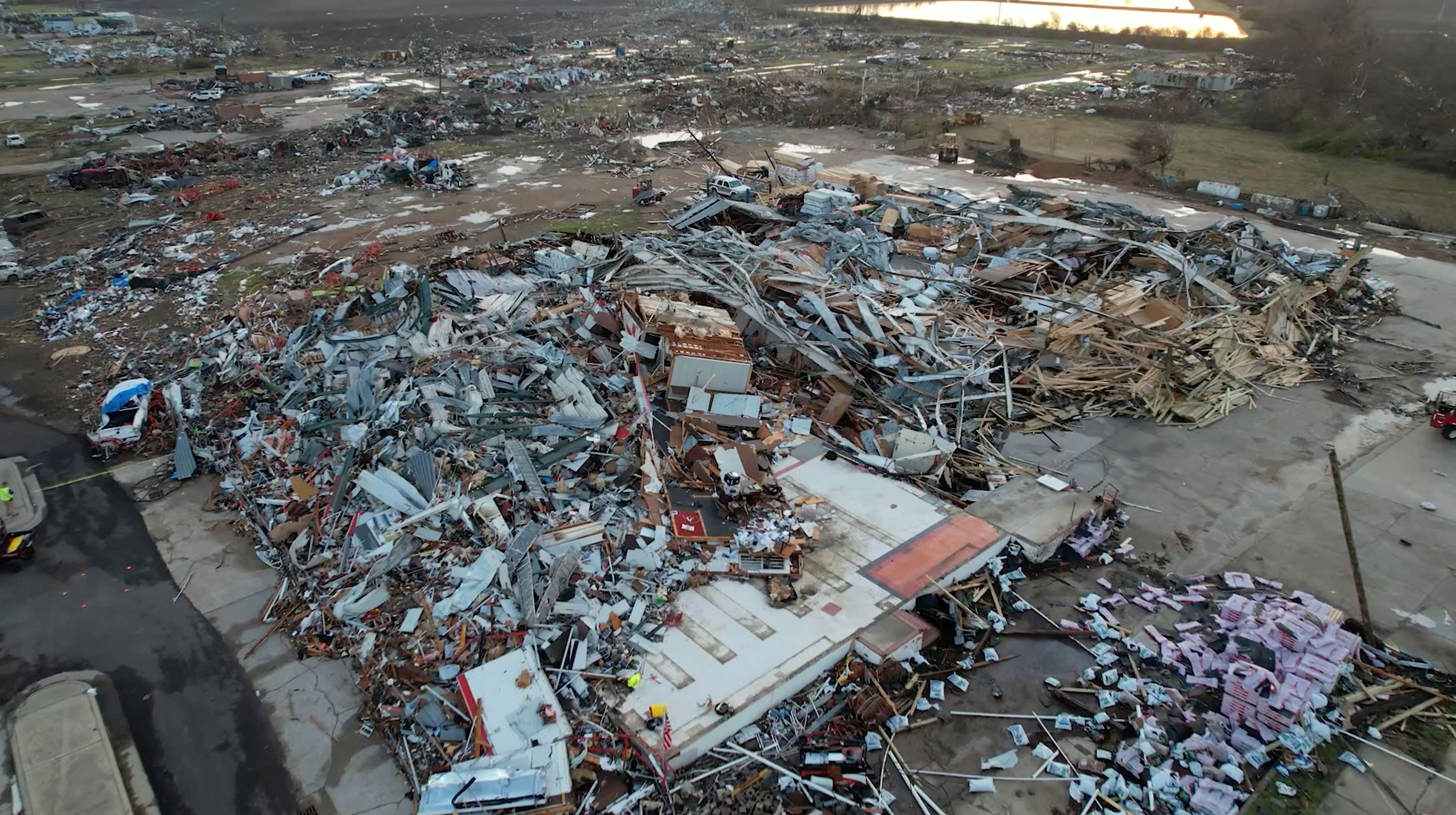 An aerial view of the aftermath of a tornado in Rolling Fork on Saturday. (SevereStudios.com/Jordan Hall/Reuters)
---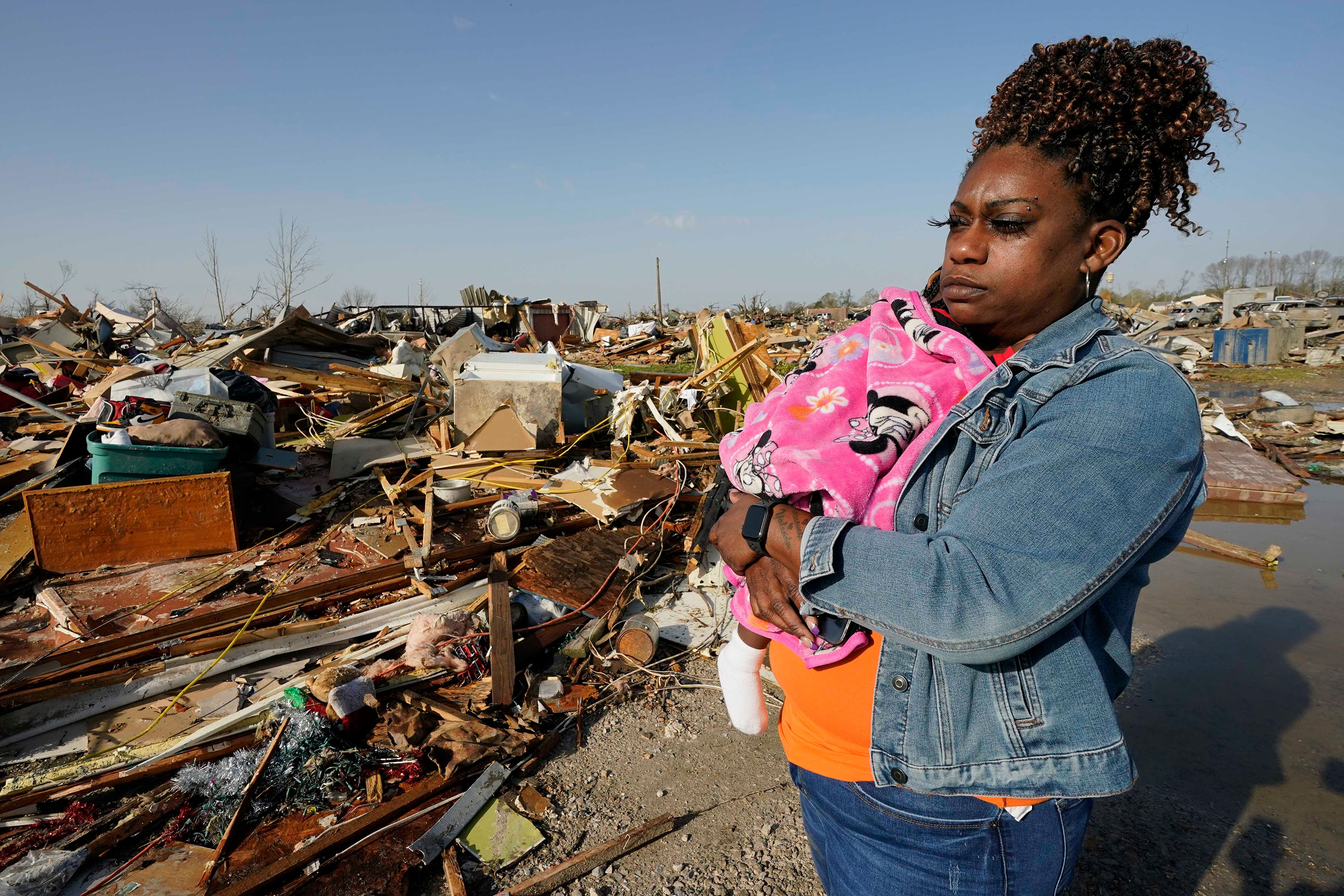 Wonder Bolden cradles her year-old granddaughter, Journey, as she surveys the remains of her mother's mobile home in Rolling Fork on Saturday. (Rogelio V. Solis/AP)
---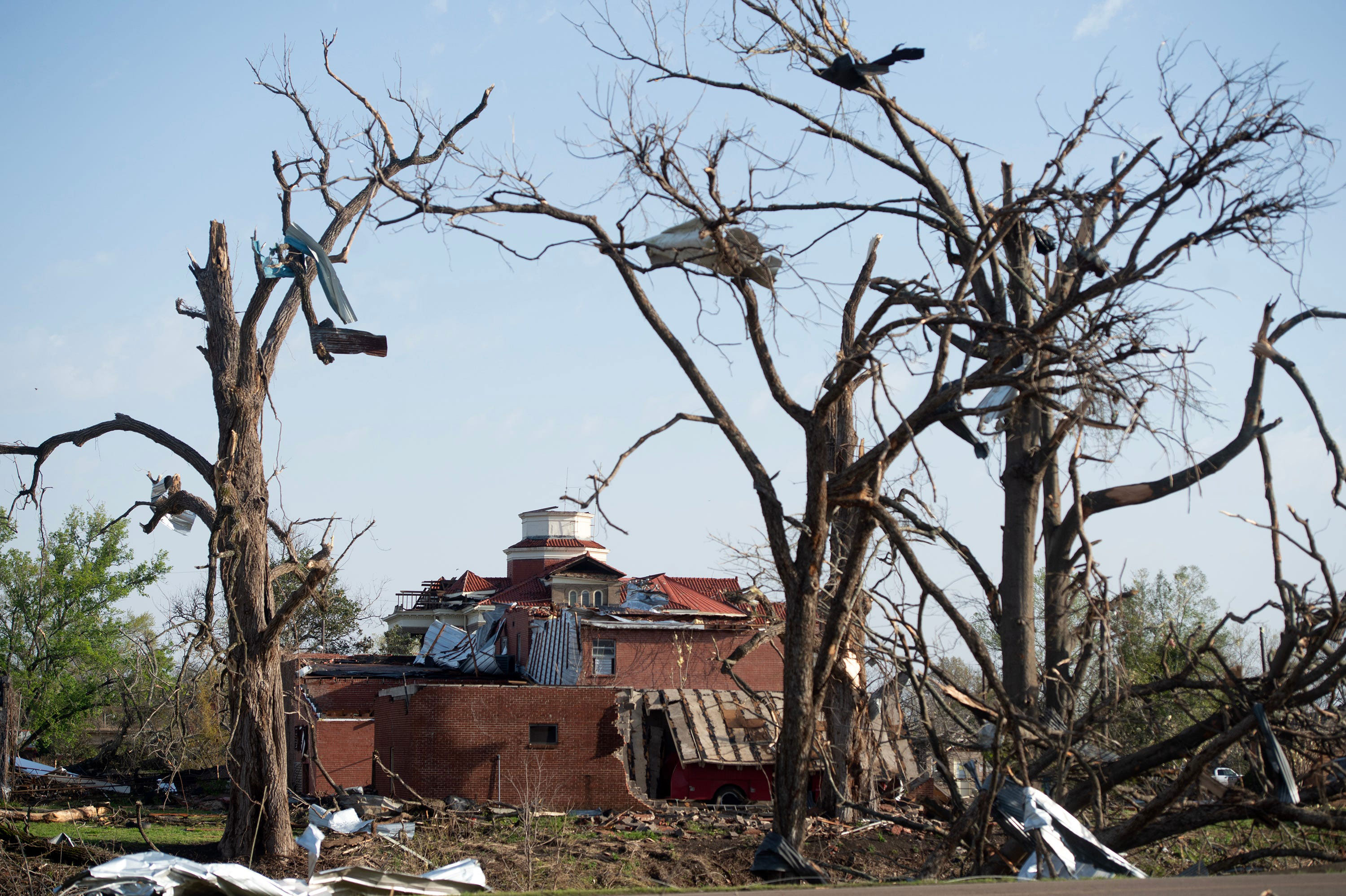 The heavily damaged Sharkey County Courthouse in Rolling Fork, Mississippi, stands framed by debris-filled trees on Saturday, March 25, after a tornado devastated the Delta town Friday night. (Barbara Gauntt/The Clarion-Ledger/USA Today/Imagn)
---