Munindra Ratna Bajracharya
Janai Purnima is observed on the full moon day of Srawana month.  All the Tagadharis Hindu males who wear the Janai the sacred thread on their chests replaced the new one that is sanctified by the priest. Janai is a sacred thread which is only given to males during the religious ceremony of Bratabandhan, which is a formal process of accepting individuals in their religion. On the auspicious day of Janai Purnima, the festival is celebrated in different manners by various groups.
Rakshya Bandhan
Early in the morning of the day, Brahmans take a holy bath in the river and wear newly-spun sacred threads around their neck. People belonging to the Chhetri community also change Janai on this day. The other also put Rakshya Bandhan (doro) in the arm or wrist for the purification and protection of their lives. Rakshya means 'protection', while Bandhan signifies a bond or restriction. 
On thus sacred day, men, women and children of every caste tie the sacred yellow thread to their wrists. Some say this sacred triple cord thread symbolised body, speech and mind. It also represents the Hindu Trinity Brahma, Vishnu and Maheshwar. The wearer believes that it will endow him with good fortune. On Janai Purnima day, a Brahman family priest comes home to offer Janai thread to concerned devotees chanting mantras and the priest is given Dakchhiana (money) and foodstuffs. 
The chanting mantra is "I tie on you (devotee) that Rakshya which was tied on Bali, the king of demons. Therefore, Rakshya, do not ever fail to protect this devotee, do not ever fail." For this ceremony, according to legend goes Lord Vishnu once punished his proud devotee who is known as Bali. Then Lord Vishnu tied Bali with the sacred thread and sent him to hell. Then from that day, it was introduced as a sacred day as Janai Purnima.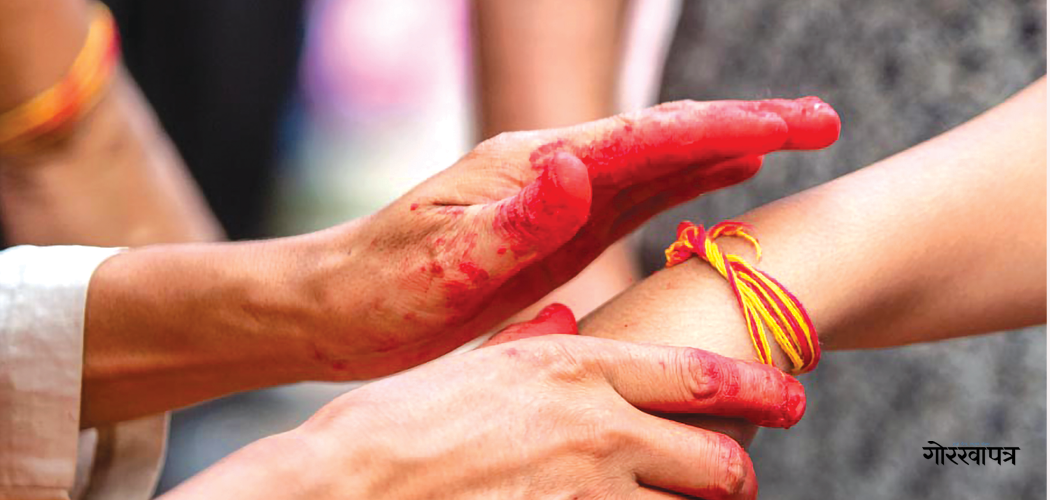 The sacred thread was tied around the wrists or other parts by Hindu people to get free from their sins. However, this is mainly a festival to protect himself from the designs of evil spirits. One is supposed to wear it until the Laxmi Puja on the month of Kartik. According to Skhandapuran they also made offerings to the Saptarishis (seven legendary Rishis or sages) so this day is also known as Rishi Trapani. This is one of the most widely celebrated common festivals of the Hindus and Buddhists.                     
On the occasion of Janai Purnima, thousands of people visit such remotely located sacred ponds as Gosaikunda, Dhudakunda and Saptarishi Pokhari and they bathe there for blessing. Gosaikunda is a beautiful lake twenty-five miles north of Kathmandu Valley where thousands of pilgrims visit to attend the religious mela or fair.
 Other major pilgrimage sites situated across the country are Panchapokhari of Sindhupalchowk, Gangasagar and Dhanusagar ponds in Jankpurdham and Triveni in Jumla. On this occasion of Janai, Purnima devotees take a holy bath and worship in the name of Shiva. In Patan, on that day a richly decorated lingam, the phallic symbol of Lord Shiva, is placed on a raised platform in the middle of the Kumbheswor pond to receive homage from devotees. The pond lies in the courtyard of the five-tired temple of Mahadev.
Newars of the Kathmandu Valley celebrate this Purnima as 'Gunpunhi'. It is also called 'Kwanti Purnima' in the Newari language. On this occasion, a soup of nine different sprouted beans (Kwanti) is prepared as a special menu of the day.  The nine different beans used while making Kwanti commonly include black gram, chicken pea, field bean, soybean, green gram, field pea, garden pea, cowpea, and rice bean. 
The beans are soaked for three or four days in water until the time they sprout. They are cooked with various spices to make a thick soup.   In the 'Kulabarna Tantra', a Tantric scripture written, the soup is highly nutritious and keeps diseases away.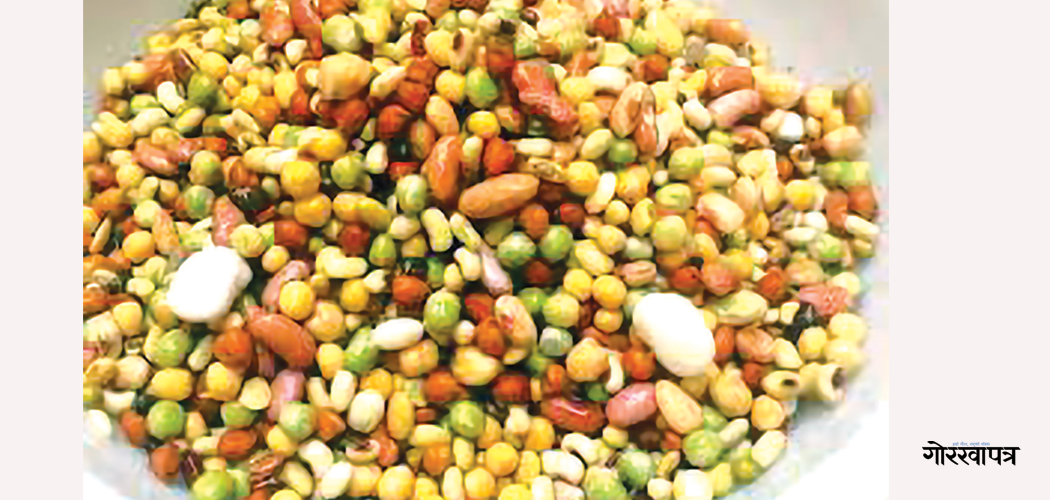 Rice, Kwanty ToFrogs
 In the Newar community, there is a tradition of offering rice and Kwanti to the frogs. Janai Purnima is also a day which honours the common frog in a ceremony called 'Byancha Janakegu' in the local language in which special rice is offered to frogs in gratitude for a god rain. The farmers here in Kathmandu Valley regard frogs as the harbinger of rainfall and the god of nature. 
It is observed mostly by those farming communities. In the Terai, sisters tie up special Rakhis around the wrists of their brothers, wishing them happiness, long life, peace and prosperity. The Buddhists observe this day in commemoration of the day the Lord Gautama Buddha defeated the evil power of lust (mars). This episode is well-described in the 
very old Buddhist scripture 'Lalitbister'. So, Newar Buddhists would spend an enormous amount of time and energy on religious activities. They will visit various Vihars, Bahi and monasteries. 
They perform different kinds of traditional Nepalese musical instruments like Naubaja, Gunlabaja, Nekubaja (buffalo horns) and other drums. However, this festival even today seems historical important to inspire religious life and to live meritorious life in peace.
(The writer is an Associate Professor at T.U.)

How did you feel after reading this news?