A week ago, I was commuting to the office using a ride-sharing service called Pathao. During the ride, the driver asked me if I found the journey comfortable. As a passenger, I replied positively and took the opportunity to inquire about his experience as a Pathao driver. He said that he had been working for the ride-sharing service for nearly three months and was satisfied with the income he was making. Intrigued by his response, I asked him about his background and plans. He explained that he used to work as a heavy equipment operator and had a decent income. However, he expressed his desire to leave Nepal and move to Europe in search of a better future. He believed that by working hard for a few years there, he could establish a foundation that would eventually provide his children with a secure future. There is another story that sheds light on why one of my distant relatives aspires to leave Nepal and seek a foreign settlement. During a marriage reception party, the distant relative, who is around 52 years old, joyfully shared his decision to encourage his daughter to pursue a BSc in Nursing instead of an MBBS (Bachelor of Medicine and Bachelor of Surgery). I was curious about his reasoning, considering his daughter had achieved excellent marks in both entrance exams. He enthusiastically explained that Europe, the US, and Australia offer good income and high respect for nurses. According to him, these countries have a higher demand for nurses compared to doctors. He believed that by completing her BSc in Nursing, it would be easier for his daughter to pursue opportunities abroad, earn a substantial income, and pave the way for the entire family to settle overseas.
As a media professional, I have come across numerous stories about Nepalis migrating abroad for better job prospects, a higher income, and advanced education. However, I find myself somewhat detached from these stories. Perhaps, in the news stories, there is a lack of the emotional aspect that accompanies those leaving their home country—the despair on their faces, the poignant farewells. While reporting on foreign migration, my focus during desk or news editing revolves around ensuring the syntactic and semantic coherence of the news, including quotes, facts, and figures. The above two stories, however, shook me to the core. I'm wondering and pondering: Why are people not seeing a secure future here and leaving for foreign countries? How long does this trend continue? How many such people return home, and how many of them contribute to national income and development? Why does the Pathao driver not see a secure future within the country? Why does the distant relative not want to stay within the country in his elderly age? It is high time the gap and failure in the activities of our governments, political parties and leaders, bureaucrats, policymakers, and development advocates were identified and addressed so that a man could dream to dwell in the country and contribute to a secure future.
Naturally, migration is about change and development. We migrate to cities from villages for betterment in life with higher and quality education, job opportunities, health facilities, etc. Everyone aspires to a better livelihood. For this, static life and idle behaviour do not yield results. So, migration is imperative for change in one's life, family, and society. In the present globalised world, where competition is at every step, skilled and competitive human resources are essential. Day by day, Nepal's villages are getting deserted, and its cities are overcrowded. Agriculture, the backbone of the national economy, is neglected. Educated human resources think agriculture is for poor and unskilled people. 
Even those getting university education in agriculture and livestock do not want to play in the mud and engage in cultivation. Not only the federal capital, Kathmandu, but also other cities are thriving and bustling of late. High rises are increasing, and open spaces are disappearing fast. With the worst air pollution in the Kathmandu Valley, specialists have warned of rising cases of respiratory diseases. 
Interestingly, despite the chaotic city, Kathmandu is still a lure for many. Those coming to cities for better education did not return to villages. Rather, they packed and choked the cities. The new generation, born and raised in cities, has a dream to leave the country. It is time to retain skilled and educated human resources within the country by creating opportunities. A retention policy is a must. The brain drain must be controlled. For this to happen, several sectors need to review their roles and make necessary changes in both their policies and practices.
 Change in political culture
First, Nepal's politics must be improved. Only sweeping changes in political culture can contribute to favourable policymaking that lures educated youths to invest their skills, knowledge, and experience within the country. Although news of stopping brain drain comes often in political pledges, no concrete move has been made so far to stop this critical problem. Importantly, intolerance, hollow promises, the sale of dreams, double standards, nepotism, and favouritism have plagued Nepal's politics. Are our political leaders ready to shun these ill characters? The current fake Bhutanese refugee scam and the involvement of multiple political parties and conspiracies hatched over multiple years have been a sheer disgrace to the country. The results of the general election (at the provincial and federal levels) and by-election are glaring examples that old political parties are in dire need of self-criticism.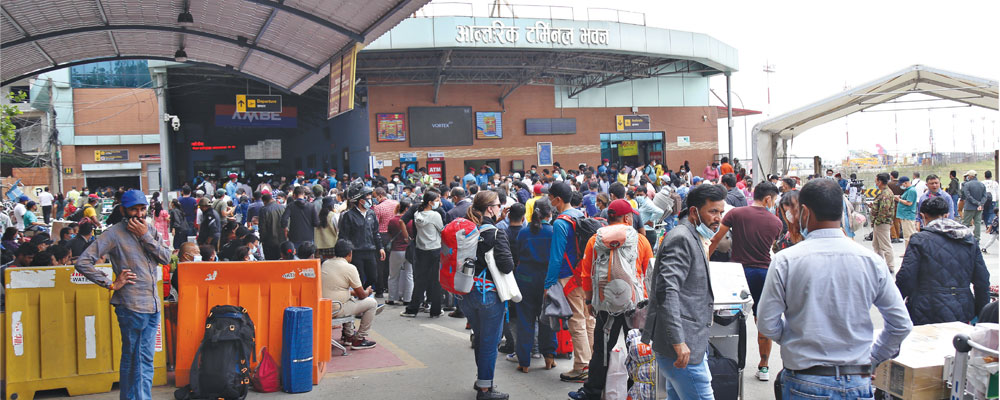 Undoubtedly, the vehement emergence of new political parties has reasons behind the old parties' inaction and hollow promises. Giving up party interest and taking constructive and creative roles is mandatory to address the plights of youth and voters. Restoring public trust is equally imperative for our political parties. Irrespective of their ideologies, our political parties must come together in terms of development, which, however, is elusive. Political parties lose synchronicity in terms of augmenting economic growth. 
Nepal is currently implementing federalism, a new system gained through rigorous struggle and movements. Many youths lost their lives and many others got injured in the struggles and movements waged for this system. We have three tiers of governments, which have brought hope for change since their inception. However, the problems of unemployment are still pervasive. Cooperation, coordination, and collaboration among governments help create employment opportunities for youth. Once the prosperity of Nepal becomes the aim and dream of Nepalis, it helps in nation-building. For it to happen, a holistic development approach is unavoidable. Besides urgent correction on the political front, other pillars of development—education, agriculture, health, and transport—must be reinforced to make the country livable for youths.
 Ending anomalies in education
The undue political influence and abject politicisation of universities is another upsetting factor in higher education. Despite assisting the concerned campuses in catering to quality education, the student unions have turned the campuses into their political playgrounds. Equally distressing are the politically divided teachers in universities and schools, whose concern and priority are politics rather than the delivery of quality education. One must have seen in the media recently that a part-time teacher was issuing threats of assault and verbally abusing a department chief at Tribhuvan University. It went viral on social media later. As the academic atmosphere in universities is marred by politics, large numbers of students are resorting to coaching and tuition centres in Bagbazar and Putalisadak. 
Such centres are mere crammers, but they lure crowds. Similarly, thriving educational consultancies are facilitating a sizable number of students trips abroad. Although globally competitive skills and knowledge are imperative for Nepali students at present, why are we weak to provide such education at home? And, are the youths going abroad for education or for other businesses? The time has come for us to be serious as to why the foreign-educated Nepalis do not return home to support national development. Media reports have said nearly 100 thousand students took no objection certificates (NOC) from the Ministry of Education for foreign study in the fiscal year 2079/80. The news story of the National News Agency (RSS) put it that Nepal Rastra Bank has recorded a flight of Rs. 67.19 billion in the past nine months with the exodus of students. 
In the same period last year, the capital flight was Rs. 43.67 billion. The practise of two systems in education is worth considering: government and private schools. In the wake of the beginning of the new academic session, parents who want to enrol their children in private schools are sharing their plights over the exorbitant fees. Amidst these anomalies, there is good news. This year, all government school students have received new textbooks. The government deserves praise for it.
 Modernisation of agriculture 
Like other sectors, modernising agriculture is a long-awaited task in Nepal. Engaging youth in agriculture is a tough job now. Even government officials and ministers admit that agriculture is the most neglected sector. Minister for Agriculture and Livestock Development, Dr. Beduram Bhusal, has been repeating this in his speech for some time: "Currently, 1.3 million hectares of arable land are left unused in Nepal, and the government is planning collective and cooperative farming. The unused land would be cultivated collectively so that it would be cost-effective and help modernise farming." 
Needless to say, agriculture is a major contributor to GDP. It has given employment to a large number of Nepalis. But we are too late to expand and modernise it. The timely supply of chemical fertiliser has been a huge concern for some years. The issues of easy loaning, availability of seeds, skill transfer, training opportunities, market access, enterprises, and industries warrant the government's attention. Some months ago, farmers in Chitwan threw away vegetables on the streets for not getting a fair price for their products, while poultry farmers demonstrated similarly in Jhapa. Unfair dealings with farmers cannot help flourishing agriculture and the economy.
 Encouraging entrepreneurship
Instead of chasing away youths for foreign employment and relishing the remittances they send home, enabling Nepali youths must be continued by the government to foster entrepreneurship. Numerous skilled youths are produced by government bodies, including the institutes running under the Council for Technical Education and Vocational Training (CTEVT). The knowledge and skills they gain must be utilised in the country so that resources are used, and enterprises thrive. The government's grants and concessional loans to youths adopting self-entrepreneurship can be a booster for entrepreneurship. The local governments can discuss with the youth what they want for entrepreneurship. We have a harrowing reminder that a youth entrepreneur from Ilam, Prem Prasad Acharya, committed self-immolation at the gate of the federal parliament in Kathmandu in January 2023. 
Dr. Swarnim Wagle, a member of the federal parliament, had observed that the hurdles and plights Acharya shared before committing suicide could be categorised under 19 different topics and should be addressed by the government. It ultimately helps create jobs and augment entrepreneurship. 
It also paves the way for youth to see a secure future within the country. Health, industry, trade, and investment are other areas that demand adequate attention from the government. Once the industries are operated smoothly and products are made for national and international markets, employment opportunities will be created, and income will improve. Judicious economic leadership is required to address the problems facing the national economy in the wake of the COVID-19 pandemic. 
Finally, our political leaders must not forget their responsibility to pave the way for secure futures for their citizens. It is high time for policy correction to make youths dream of a prosperous Nepal and devote themselves to it. We are proud of the constitution, which has guaranteed our rights, but are we working to meet the spirit of the constitution?
(The author is a journalist at the National News Agency-RSS.)