By Laurence Peter, Aug. 9: Much of Europe is baking in record heat, which has exposed riverbeds and triggered restrictions on water use in many areas.
In the Netherlands, the level of the Waal - the main Dutch branch of the River Rhine - has dropped below the bottom marker on a bridge at Nijmegen.

The city lies near the German border, and the Rhine is a key artery for cargo vessels and ferries.

Newly exposed stretches of the Waal reveal dumped bicycles, car tyres and other detritus.

Parts of the IJssel river, flowing north, are now so narrow that a ban has been imposed on ships passing each other. And the heat has caused toxic algal blooms to flourish in parts of the Maas and Waal rivers, so people have been warned not to swim there, and to keep their dogs out of the water.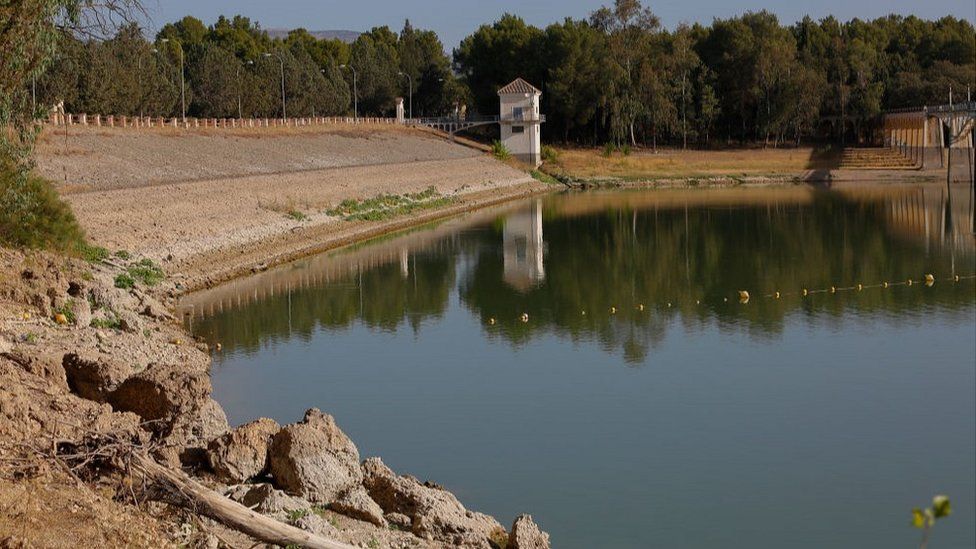 GETTY IMAGES, Cubillas reservoir in Granada, southern Spain
---
The south of Spain is well used to scorching summers - but Andalusia is also one of Europe's main agricultural regions, and crops need irrigation in dry conditions.

Growers of avocados and olives are especially worried, as those crops require plenty of water. But reservoirs in the basin of the Guadalquivir - one of Spain's longest rivers - are now only a quarter full.

The boom in Spain's intensive agriculture has fuelled concern about its sustainability, given the pressure on water resources in hotter climatic conditions.

Europeans face the prospect of costlier imported food - on top of higher grain prices caused by the war in Ukraine and supply chain blockages.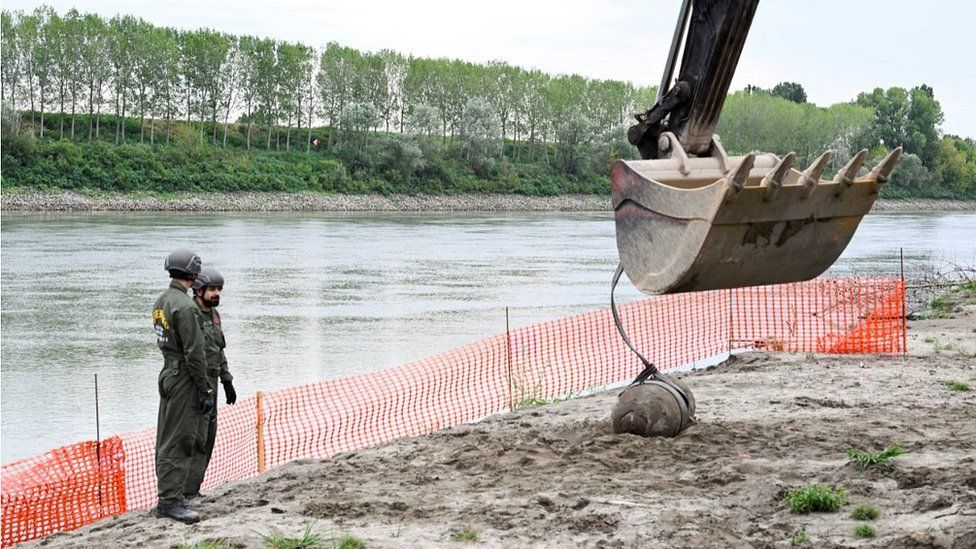 REUTERS, Removal of an unexploded bomb, Borgo Virgilio, Italy

---
In northern Italy, an unexploded World War Two bomb emerged from the dried-up River Po. It was detonated in a controlled explosion on Sunday.

The 450kg (1,000lb) bomb was found by fishermen.

Large sections of the 650km (400-mile) river - a dominant feature of northern Italy - have dried up in the country's worst drought for 70 years.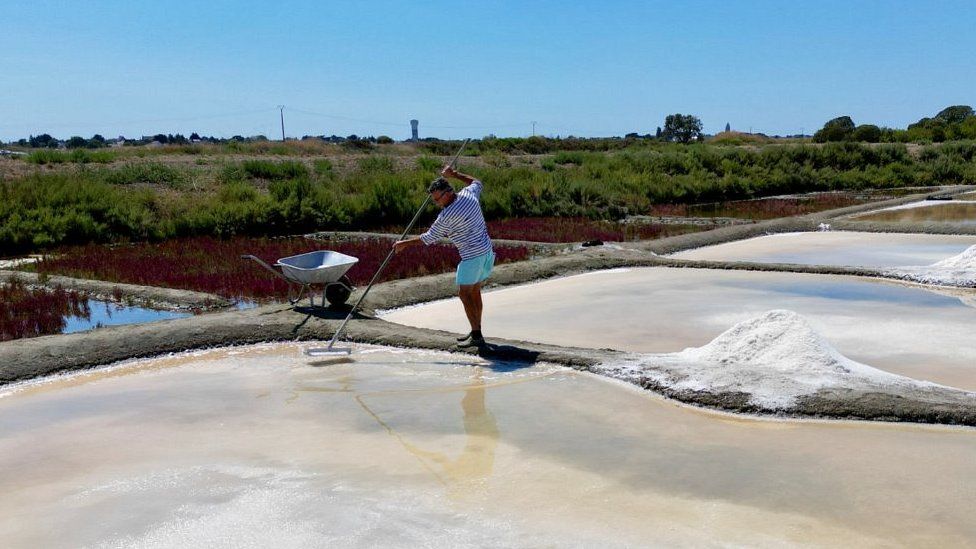 REUTERS, François Durand collecting sea salt in western France

---
The drought is not bad news for everyone, however. In Le Pouliguen, western France, the evaporation of seawater is producing a record harvest of sea salt, Reuters news agency reports.

François Durand says the average yield was about 1.3 tonnes per salt pan over the last 10 years, but this year it is 2.5 tonnes.

He harvests in the Guérande region of Brittany, whose Fleur de Sel quality sea salt is highly prized worldwide.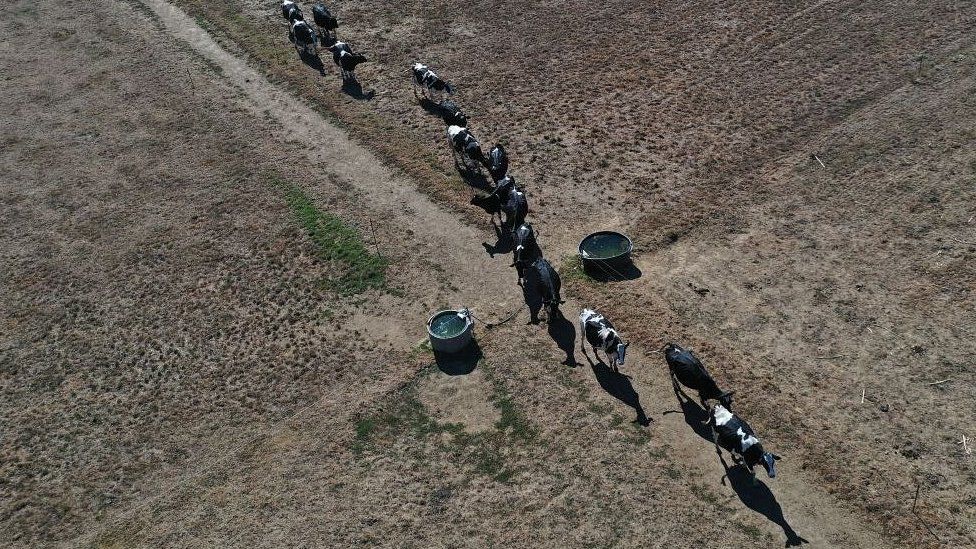 AFP, Cattle in parched fields in Tinténiac, north-west France
---
Inland is a different story for France's rural population, such as farmers in Tinténiac, Brittany.

The country's historic drought has put pressure on farmers to keep their livestock watered. In some areas, such as the Alps, that means extra journeys to collect water and extra fuel costs.

More than 100 French municipalities are short of drinking water, which is being delivered by truck. There are widespread restrictions on watering gardens and golf courses, car-wash facilities have been closed and many fountains are now dry.

GETTY IMAGES, A dry corn field in Rogoza, eastern Slovenia
---
In Slovenia, the drought is taking a heavy toll on crops, the country's agriculture ministry reports.

The corn yield is expected to be about half the normal level - and that is a blow, especially to livestock farmers, already struggling with a shortage of animal feed. The supply of grass is also lower because of the drought.

The yield of pumpkins, potatoes and hops will also be dramatically lower, the ministry says. Even grapes, which normally fare better in sustained heat, are likely to be half the usual quantity for Slovenia's winemakers.